One hour, ten minutes into Episode III, we had to abort. Lois just lost it during the Chancellor/Mace Windu battle. As Windu was absorbing Palpatine's force lightning into his light saber and Palpatine was mutating (why didn't this happen with Dooku and Yoda in Episode II?), she buried her head in my chest. I had to stop it after Mace was behanded and defenstrated. Lana broke out in tears in response to Lois's sadness and worry. It paused on Anakin hanging his head in front of the Chancellor. I then sketched out the important points of the rest of the movie.
We moved on to a New Hope shortly thereafter. I explained movie ratings and how Episode III is a PG-13 movie and that it is ok that they wait some time to see it again. Now they are curled up on the couch in their bathrobes, under their comfort blankets and sharing a bowl of pop-corn and watching a comfort movie as C-3PO hitches a ride with some friendly Jawas. It WAS awful mean of Artoo to trick him into going that way, after all. Poor Threepio.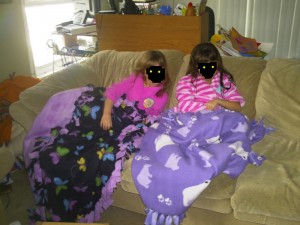 Jawa Lois and Jawa Lana see some free-range droids.