Despite some technical difficulties, we began watching Fox Presents: When Clones Attack at about 3:10.
Lana's thoughts on Episode I: "I liked it! I loved the pod-racing."
Lois' thoughts on Episode I: "I liked it. It's cool!"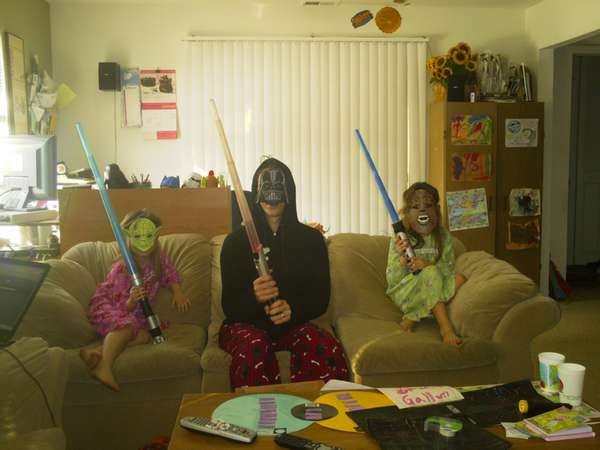 So what if Chewie has a light saber? It's not as clumsy or random as a blaster.
Lois is on the left and Lana is on the right. Your intrepid reporter Geekling Rancher is in the middle. Our light saber precision drill is unmatched by any other family on our block.
All that's missing here is the pop-corn. We'll get that at intermission.

Behind me and the girls, you can see the helmets of my Darth Tater and Spud Trooper. On the Coffee Table is the placemat depicting a Venn diagram comparing Uranus and Saturn that Lana made in her Space Cadets after-school program.
BatMom was at work for Episode I and came home about 15 minutes into Ep. II. Family Valentine's Day, FTW!